Understanding
Vision Discovery
We help you clarify your goals so you can understand how your money can help support the life you want.
We begin by asking the right questions to determine how you relate to money – how you think and feel about it – and what is most important to you.
What do you
value most
in life?
What are you
passionate
about?
What do you want to
achieve, experience
and share?
What drives
your decisions
surrounding money?
Planning
Purposeful Strategy
Knowing what you value, we design a strategy that aligns your vision with your financial reality. The strategy looks at the present and to the future, remaining flexible and setting guardrails to help you stay on course since life does not always follow a plan.
Implementing
Aligned Portfolio
We build a portfolio customized to your needs. We construct the portfolio to efficiently maximize your opportunities for success, managing costs, taxes and risk.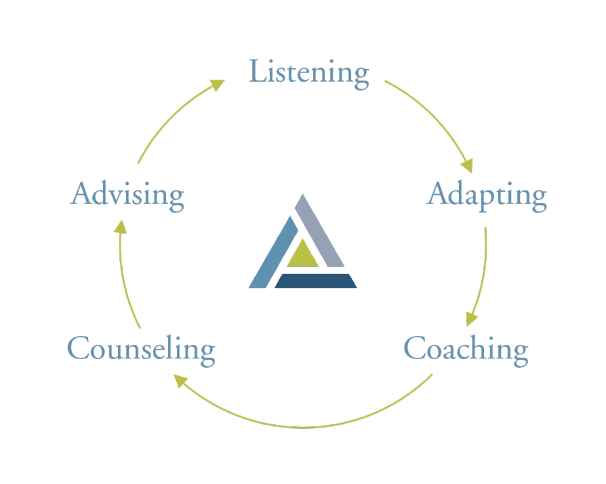 Monitoring
Ongoing Support
We engage with you, your plan and your portfolio and leverage technology so you always know where you stand, and update your investments as your situation evolves.
We are with you every step of the way.
Life and
Goal Planning
We meet with you to understand your life aspirations – the why behind financial freedom – so that you can work toward specific goals like leaving a legacy or buying a second home.
Cash Flow and
Tax Planning
We analyze your cash flow and any debt, review insurance and social security, and initiate tax management and income distribution planning.
Education
Planning
We guide you on costs of private, college, graduate and post-graduate education, available savings accounts and the best way to fund education costs.
Group Benefits
Planning
We help you make the best decisions about retirement plans, group benefits and group insurance options.
Corporate
Benefits Planning
We provide insight into stock options, deferred compensation and concentrated stock analysis.
Business Succession
Strategies
We develop financial and risk management strategies to help protect wealth upon the retirement, disability or death of a business owner or a key employee.
Exit
Planning
We help entrepreneurs and business owners address the personal, tax, legal and financial factors related to the sale of a business.
Risk
Management
We help protect you from risk, reviewing your insurance needs including life and disability, long-term care, property and casualty, and health.
Estate and
Charitable Giving
We guide you on wills and trusts, multigenerational planning, entity planning and philanthropy.
Wealth
Aggregation
We provide a secure online portal so that you can review your aggregated investment accounts in one place.
Family Governance
Planning
We meet with you and your family to discuss multigenerational issues, including strategies for investments, education, income distribution and trustee designation.
Retirement
Planning
We provide planning and investment strategies to help you achieve your lifestyle and income goals in your post-career years.
Insurance Planning
We coordinate your insurance needs, aligning your liquidity needs with your objectives through portfolio construction, insurance acquisition, reviews and reporting.